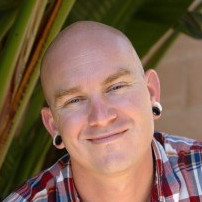 About Me
I'm Jim Christie. I'm a web devoloper, an agile coach, a cyclist, and sometimes, an artist. As anyone who works on the internet should, I love cats. I have over five years of web development experience. I lean strongly toward back end functionality of websites. I can do design, but I don't love it and, consequently, I'm not the best at it. I've become a strong supporter of agile methodologies.
Recent Blog Post
Over the next weekish, a number of websites will be engaged in a campaign to lobby the Senate to block the FCC's repeal of net neutrality. As a supporter of an open internet, I have decided to participate in this campaign.Many of the arguments around net neutrality on both sides of the discussion tend to focus on business objectives. But I think that there's a more important argument: Revoking net neutrality threatens our First Amendment right to freedom of expression.
Current Job
Shelter Insurance

As a coach, trainer, and Scrum Master at Shelter Insurance, a 70 year-old agent focused insurance company, I engage teams and individuals to evaluate and improve their workflows.