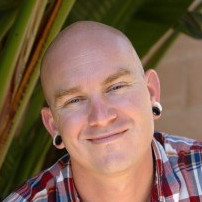 About Me
I'm a web devoloper, an agile coach, a cyclist, and sometimes, an artist. I have over eight years of leadership experience, three years of which have been in software development. My experience in the software development industry has led me to become a strong supporter of the lean and agile mindsets and their supporting methodologies.
I spend my free time developing hobby software projects, working on my farm, creating digital art, and riding my bicycle.
As anyone who works and lives on the internet should, I love cats.
Current Job
Shelter Insurance

As a coach and trainer at Shelter Insurance, a 70 year-old agent focused insurance company, I engage teams and individuals to evaluate and improve their workflows and deliver more innovative products.
Recent Blog Post
One of the most fun things about training is the way that the trainees surprise me. At my last training session, a team floored me with their creative solution to the penny game that I previously wrote about. Their innovation led them to a 40% increase in productivity. We played a few more rounds after the training to see how far we could push this, and what additional lessons might be gleaned from it.