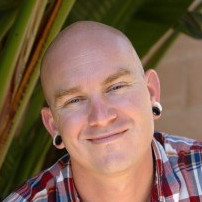 About Me
I'm a web developer, an agile coach, a cyclist, and sometimes, an artist. I have over eight years of leadership experience, three years of which have been in software development. My experience in the software development industry has led me to become a strong supporter of the lean and agile mindsets and their supporting methodologies.
I spend my free time developing hobby software projects, working on my farm, creating digital art, and riding my bicycle.
As anyone who works and lives on the internet should, I love cats.
Current Jobs
Hanesbrands Inc.

As part of its Full Potential Plan, Hanes Brands Inc. is developing more agile ways of working. As an Agile Trainer in this initiative, I develop training content for and deliver training content to Scrum Teams, individual Scrum Team members, stakeholders, and members of management.

Owlsy

Owlsy is a small group of dedicated coaches and trainers who specialize in helping businesses find ways to become more customer-focused and agile.

As an Agile Coach and Trainer, I help clients to see and realize the benefits of working in collaborative and customer-focused ways.
Recent Blog Post
I've been trying (unsuccessfully) for a few years to blog more prolifically. I've set targets and goals for myself, only to miss them again and again. Clearly, I either need to re-evaluate my goal, or change my approach.