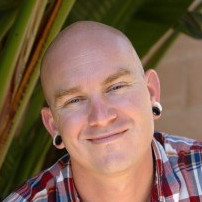 About Me
I'm a web devoloper, an agile coach, a cyclist, and sometimes, an artist. I have over eight years of leadership experience, three years of which have been in software development. My experience in the software development industry has led me to become a strong supporter of the lean and agile mindsets and their supporting methodologies.
I spend my free time developing hobby software projects, working on my farm, creating digital art, and riding my bicycle.
As anyone who works and lives on the internet should, I love cats.
Current Job
Pearson Online & Blended Learning

Pearson Online & Blended Learning provides digital solutions to students and teachers who are making a shift to virtualized learning.
Recent Blog Post
MVP, or Minimum Viable Product is a term that gets thrown around business like crazy. It's especially ubiquitous in "Agile" contexts. MVP is something that we constantly ask ourselves. What is the MVP? What can we put off until Day Two? What are the need-to-haves and what are the nice-to-haves? These are all great discussions to have.

However, sometimes, these conversations change.